Prince Court Medical Center continues to display the high quality of treatment and care as ever.
As one of the first hospitals to offer medical tourism services, it has been ranked in the MTQUA Top 10 from the start. Competition from other hospitals and other countries is keen and has affected Prince Court's top standing this year.

Prince Court Medical Center provides excellent surgery options for medical travelers. It pays exceptional attention not only to the medical care its doctors and nurses provide but to the details of patient comfort. Its special services include a sophisticated burn unit, and an In Vitro Fertility unit with a multiple fetal monitoring system.
Featured medical tourism services
A senior manager oversees the Front Office and coordinates services from the concierge desk, admissions, language interpretation, and the international business lounge. Airport pickup, letters of appointment and visa extension with the Immigration office are arranged as needed. Special room rates for Prince Court patients have been negotiated at nearby hotels.
The Prince Court Medical Center architect-designed lobby fills with natural light.
Prince Court Medical Center continues to be a major participant in the Malaysian Health Travel Council's activities in road shows and exhibitions, including Bangladesh, Hong Kong, China, Indonesia, and Myanmar.
Continuing enhancements to quality and safety
Improvements in medical equipment and procedures include
obstetrics monitoring upgrade to allow for multiple fetal monitoring, an important asset for an active IVF program
Swisslog Pillpick system for inpatient medication dispensing (the hospital recently achieved HIMSS Level 6 for closed loop medication dispensing)
card-based USB for uploading imaging data for medical travelers as an alternative to the current disk storage system
regular patient security drills that include fire, bomb threat, and abduction of babies
use of radio frequency identification "smart tags" for infant safety
and investment in dialysis equipment
Responsible and responsive management
Malaysia is unique in having a medical fee schedule that is mandated by law.
The Fee Schedule is within the Private Healthcare Facilities & Services Act 1998 / 2006 Regulations and prescribes the maximum fees that may be charged by physicians for consultations, ward rounds and procedures.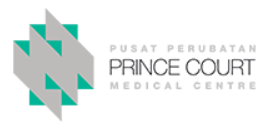 Contact Details
Prince Court Medical Center
39 Jalan Kia Peng
50450 Kuala Lumpur, Malaysia
Tel: +603 2160 0000
Website: http://www.princecourt.com